Inclusive education refers to a quality education system that accommodates all learners on an equal basis, including deaf and hard-of-hearing children. Working towards inclusion requires adaptation of teaching methods, curriculum, physical structures, and practices of educational environments to make them accessible for all students.
Inclusion is the learner's right to participate without discrimination, exclusion, and on the basis of equality (UNCRPD, article 24). However, simply placing all students together in a mainstream school setting without adaptations will not meet the needs of the deaf and hard-of-hearing learners. To be truly inclusive, it is critical to support sign language and social-emotional development as well as bilingual learning materials.
Quality education
Children with hearing loss are often excluded from formal educational systems due to stigma, discrimination, and isolation in the community. Even if they are enrolled, they often are deprived of access to learning due to the lacking skills and knowledge of teachers in how to teach children who are deaf or hard-of-hearing. Kentalis International Foundation is committed to improving the quality of education for deaf and hard-of-hearing learners in developing countries and sharing its expertise in teacher education.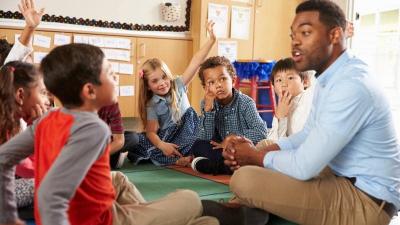 We focus on:
Supporting the design of inclusive curricula for early childhood education as well as primary and secondary education.
Working with national educational institutes to develop and implement academic courses on inclusive education.
Stimulating multi-sectoral cooperation between ministries of education and health, universities, special education colleges, and disabled people's organizations.
Raising awareness among parents and the wider local community about understanding deafness and hearing loss. Click here to view our documentary on Deaf role models in Africa.