Teachers and support staff are pivotal in the learning development of deaf and hard-of-hearing children. However, many teachers in developing countries only receive training to educate hearing children. In some countries, special education courses are provided, but they often cover theoretical knowledge and no concrete teaching methods to use in the classroom.
Following the adoption of the Sustainable Development Goals in 2015, more and more countries are working on an inclusive educational system, resulting in a growing need for capacity building of specialist teachers and staff. The United Nations Convention on the Rights of Persons with Disabilities (UNCRPD) explicitly demands appropriate teacher training covering means and format of communication, educational techniques, and materials to support persons with disabilities (UNCRPD, art. 24).
Child-centered approach 
Many developing countries face the problem of limited skilled teaching personnel for children with special education needs. Moreover, teachers don't always adapt their teaching methods to the student need. Kentalis International Foundation is committed to providing teacher training focused on inclusive deaf education.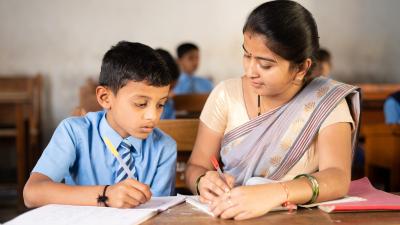 We focus on:
Training teachers in primary and secondary education to provide deaf and hard-of-hearing students with quality education suited to their needs.
Collaborating with universities to strengthen regional research capacity on the education of deaf and hard-of-hearing learners.