People with complex communication needs or deafblindness have multiple challenges. It has a lot of impact on all aspects of their lives. Alternative ways of communication are crucial for them.
Deafblindness
Deafblindness is a unique disability, a combination of visual and hearing impairment. The two impairments together increase the effects of each. The combination of dual sensory loss leads to unique problems in communication, mobility and access to information.
Causes of deafblindness
There are many possible causes of deafblindness. Some babies are born deafblind, but in many cases the hearing and/or vision loss occurs later in life. Causes of deafblindness include genetic conditions, such as Usher syndrome, an infection picked up during pregnancy, such as rubella (German measles), cerebral palsy – a problem with the brain and nervous system that mainly affects movement and co-ordination and age-related hearing loss. Deafblindness from birth is known as congenital deafblindness. Deafblindness what is developed later in life is known as acquired deafblindness.
Complex communication needs
People with complex communication needs have multiple challenges. In addition to a language development disorder or hearing loss, they also have an intellectual and physical disability, for example. Psychological problems are also common.
LEARN TO COMMUNICATE
Communication is not always a matter of course for people with complex communication needs. That is why Kentalis investigates with a multi-disciplinary team which form of communication suits someone. This depends on the situation, limitations and possibilities of the person. You can learn different forms of communication, such as:
Sign Language
Spoken language supported by gestures
Fingerspelling in the air or hand
Communication with pictos
TOTAL COMMUNICATION
We believe that everyone is entitled to customized communication. That is why we often work with the Total Communication methodology. This means that we communicate in a way that suits a child or adult and, if necessary, use different forms of communication and tools. Total Communication increases independence, self-reliance, interaction and self-esteem.
SPECIAL EDUCATION AND CARE
Children with complex communication needs go to special education. They receive customized education. The teachers match the level, communication possibilities and talents of the child. Education is specialized and regularly one-on-one. Education and care staff also work closely together here.
Some children, adolescents and adults with a communicative multiple disability need specialist care in daily situations. That is why Kentalis has special residential groups (24-hour care) and day-care groups.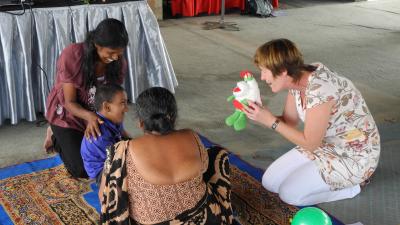 Our expertise
Alternative ways of communication are crucial to persons with deafblindness or complex communication needs. Kentalis is an expert in those means of communication and accessibility, always together with the concerned person and adopted to his/her abilities and talents. The goal is self-determination in organizing their own lives and participate in society. We develop and share our knowledge with other organizations, both in the Netherlands and abroad.
Kentalis is the treasure holder and corporate member of Deafblind International (DbI)