Final phase project Sign Language Assessment Tool in Kenya
Wednesday 12 July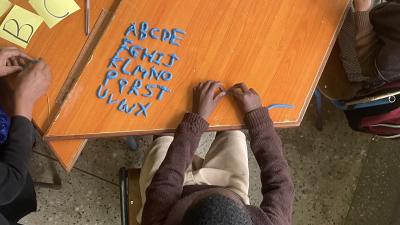 Last year Kenyan organization eKitabu asked Kentalis International Foundation to develop a game-based assessment tool for Kenyan teachers to conduct sign language progress monitoring. After months of collecting, testing, and training this tool will be finalized at the end of July 2023.
In creating the tool's prototype, Kentalis International Foundation greatly benefited from the extensive experience of the Kentalis organization with sign language observation in young Dutch children, based on Kentalis schools as well as research. Kentalis expert Wieneke Eggermont (teacher) took the lead in the project team, supported by Daan Hermans (senior researcher). We also involved Dr. Everline Nyokabi, head of the Department of Special Needs Education at Maseno University Kenya, in refining, contextualizing, and supporting the testing of this prototype tool in the Kenyan classroom.
Objectives of the project
The Kentalis team aimed to create an assessment tool that was visual and based on playing interactive games to measure the pupil's sign language progress. Another focus was usability. It should be easy to explain to other teachers so that professionals can assist each other. Lastly, the tool needs to reflect the local context with questions and examples that match Kenyan schools' reality. Read more about the project here.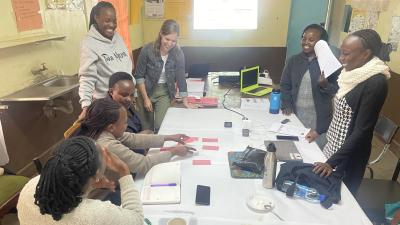 Results
Kentalis feels proud to present eKitabu with a simple play-based assessment that can easily be rolled in other schools in Kenya. The tool tests the receptive and expressive side of sign language at different levels such as letter/number, word, sentence, and story. Moreover, the advantage is that most elements can be done in a classical setting which makes it more efficient for teachers. Furthermore, the tool is accompanied by a methodology and a practical manual.
In May 2023, the Kentalis project team traveled to Nairobi, Kenya, to explain the tool's work process to eKitabu. Together, they tested the prototype at the Racecourse School in Nairobi. We were delighted to see that the response from both eKitabu and the school teachers was very positive! Once the final adjustments are done, the tool is ready to be used in more than 100 schools in Kenya where eKitabu is engaged in sign language vocabulary development.
Project manager Eva Geneste summarizes the tool as: "A great new way to see how far the children in your classroom are on all levels of sign language development. This way, you know where they shine and on which part of the sign language you as a teacher should pay some more attention."