Launch reading manuals for deaf and hard-of-hearing children in Uganda
Wednesday 08 December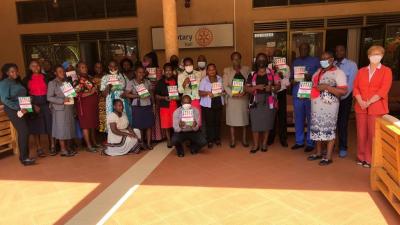 On 22 November 2021, Kentalis International Foundation attended the launch of a set of reading manual books, specifically designed for young deaf and hard-of-hearing children in Uganda. The manuals are the closing piece of a long and fruitful project cooperation between Royal Kentalis and the National Curriculum Development Center of Uganda.
Practical toolkit for teachers
The reading manuals provide a hands-on toolkit for teachers in primary education in Uganda. It is rooted in evidence from research and the best practices in schools in the Netherlands and in Uganda. A targeted reading method is pivotal since deaf and hard-of-hearing children acquire reading skills in a different way than hearing children.
Training trainers
This adapted reading method for deaf and hard-of-hearing children was approved by the National Curriculum Development Centre's governing council in October 2021. Kentalis trained four Master Trainers, who now are able to train more reading coaches in Uganda. They are trained in how to use Video Interaction Guidance to coach and support primary education teachers in the long term.
Also manuals for Tanzania
In addition to the project in Uganda, Kentalis also worked with the Archbishop Mihayo University College of Tabora in Tanzania to simultaneously develop a similar set of reading manuals for teachers in primary education in Tanzania. These manuals are translated into Swahili, the national language of Tanzania. Read more about the full project here. 
Both manuals are available on our page resources.