Professor Marc Marschark rewarded for his exceptional contribution to deaf education
Thursday 07 November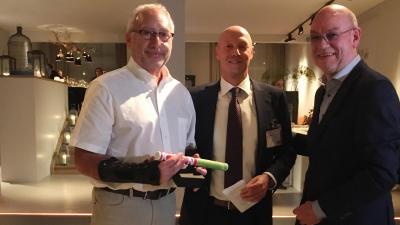 Marc Marschark, professor at The National Technical Institute for the Deaf in the United States, Rochester, is rewarded today with the Kentalis Medal. Professor Marschark received the Kentalis medal as a token of appreciation for his great achievements for one of the main target groups of Kentalis: people who are deaf or hard of hearing.
During the 3rd International Conference on Teaching Deaf Learners, from 6th to the 8th of November 2019 in Haarlem, Marc Marschark received the medal from the Kentalis CEO, Oscar Dekker. Professor Marschark is rewarded this medal because of the important role he played in improving the education for deaf students, for the wellbeing of people who are deaf or hard of hearing and for the purposeful collaboration between the National Technical Institute for the Deaf and Kentalis. In one month Professor Marschark will take his pension. Oscar Dekker: "Marc has opened the doors for external research, he has initiated many new innovative studies and has contributed to a platform where these studies are discussed and shared in scientific circles as well as in the educational practices, worldwide.
About the Kentalis Medal
The Kentalis medal is a 100 gram silver medal of honour, designed and created in 2010 by René van Tol (1950), Master goldsmith in s-Hertogenbosch. The Kentalis medal was handed out six times before. Marc Marschark is the first foreigner that receives this reward.