vCIES2021: a virtual roundtable focused on language and community first approaches to Deaf education
Monday 03 May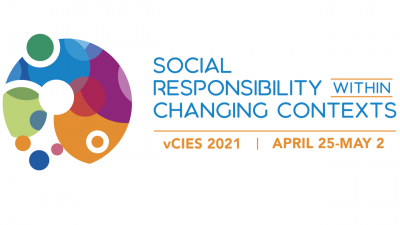 Four organisations that each have projects focused on improving education for Deaf and hard of hearing learners joined forces during this year's virtual CIES conference by hosting a roundtable conversation sharing successes and lessons from their projects in Malawi, Kenya, Uganda, and Tanzania.
Language first
In contexts where early detection and access to language are not prioritised and available, Deaf children come to school with severe language delay. Unfortunately, neither the curriculum nor the training that teachers have had is sufficient to mitigate this impact.
Juárez & Associates – Reading for All Malawi
Juárez & Associates shared that in their project, Reading for All Malawi, many teachers did not have sufficient Malawian Sign Language skills to effectively teach Deaf and hard of hearing learners. Their analysis showed how the majority of grade 2 and 4 Deaf learners are performing below grade average in basic reading skills.
Kentalis International Foundation – The Reading Project Uganda & Tanzania
The Reading Project by Kentalis International Foundation highlighted that in order to achieve reading comprehension a (Sign) Language first approach is needed for reading, going beyond the curriculum and taking time to build language skills in Sign Language, before focusing on word and text reading. Furthermore, reading words and texts for Deaf learners is not based on sounds, and therefore should not use a sound-based teaching approach.
Both projects showed that setting appropriate goals, focusing on teacher skills, and building sign language skills first (for teachers and learners) is pivotal.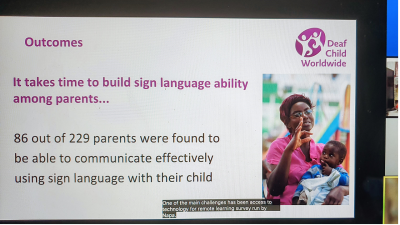 Beyond school
Deaf Child Worldwide – Impact of home-schooling in Uganda
During the Covid-19 pandemic and the subsequent worldwide school closures, Deaf children have been disproportionately affected because their parents often do not have the literacy and Sign Language skills to communicate with their children and assist them in home-schooling. Deaf Child Worldwide conducted a survey among Ugandan parents showing the need for Sign Language training and involving siblings as well.
eKitabu – Digital Story Time
In Kenya, eKitabu has been increasing accessibility for out-of-school learning by producing story books in Kenyan Sign Language which have been aired on national TV, aiming to reach as many children as possible during school closure. These accessible materials are produced in local sign languages in various African countries in collaboration with Disabled People's Organisations to support parents, communities, and schools.
Key take-aways
All these initiatives show the importance of early access to (Sign) Language and investing in opportunities for parents, siblings, and teachers to learn this early on. This way they can provide a rich language environment for Deaf and hard of hearing children, and that having adequate and accessible material, such as deaf-specific methodologies and material in Sign Language, is key.