In Nepal, persons who are hard-of-hearing were long not considered a group with different needs from persons who are deaf. The provision of audiological services and hearing aids or cochlear implants has increased in recent years. However, in education, learners with technical devices are easily regarded as hearing and did not receive special attention and support.
By informing teachers and parents about the different learning needs, as well as by individual coaching of the child, hard-of-hearing students can benefit in many ways. From pre-school time up to secondary school.
Project: ambulant service for hard-of-hearing 
A multidisciplinary expert team from Kentalis has worked closely together with the National Association of the Hard-of-Hearing and Deafened Nepal (Shruti) to develop their expertise in educational support services for hard-of-hearing children. Hard-of-hearing children in Nepal often end up in either regular schools or schools for the deaf, neither of which are a good fit for this student. Through training by Kentalis experts, the Shruti staff aims to enhance their services in support of the student's learning environment by giving information and coaching teachers, parents, and the child.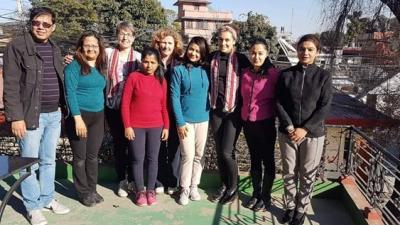 Theoretical and practical training 
The Kentalis experts have developed several training modules in subjects such as communication & language, understanding hearing loss, and social-emotional development. Moreover, they have coached the Shruti staff on how to run an itinerant service provision. Due to the covid-19 pandemic and the subsequent lockdowns in both Nepal and the Netherlands, the last phase of the project was implemented through an online format.
Project facts:
Timing: 2019 – 2021 (completed)
Location: Nepal, Kathmandu
Funded by: Vrienden van Effatha
Partner: Shruti Nepal