In Uganda, secondary level students who are deaf either attend a school for the Deaf or are included in mainstream schools. However, until now the country does not have any specialized teacher training on deaf education for the secondary school level. Kentalis International Foundation therefore supports the development of a Bachelor's and a postgraduate course on inclusive deaf education.
Project: Bachelor of Inclusive Deaf Education
The Bachelor of Inclusive Deaf Education (BIDE) courses will focus on innovative teaching strategies and techniques for teachers, which will suit the deaf and hard-of-hearing learners. In earlier years Kentalis has successfully developed a similar degree program in Tanzania. We expect that through this teacher training program more deaf and hard-of-hearing children will be able to complete their secondary education. This should lead to a higher employment rate and better career possibilities. The teacher trainees shall be better equipped to teach deaf students and will develop skills to support their colleagues without special education needs knowledge.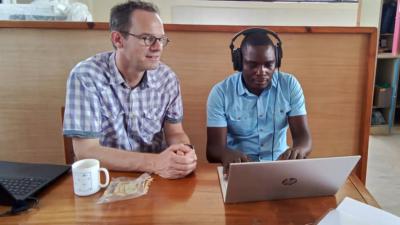 Project facts:
Timing: 2018 – 2023
Location: Uganda, Kampala
Funded by: Stichting Vrienden van Effatha
Partner: Uganda Martyrs University
Photos: © 2022 Koninklijke Kentalis - Kentalis International Foundation