In Uganda, deaf secondary-level students have two options: attend a school for the Deaf or be included in mainstream schools. However, there has been a gap in specialized teacher training for deaf education at the secondary school level. To address this, Kentalis International Foundation is supporting the development of a Bachelor's and postgraduate course on inclusive deaf education.
Project: Bachelor of Inclusive Deaf Education
The Bachelor of Inclusive Deaf Education (BIDE) program aims to equip teachers with innovative strategies and techniques that are tailored to the needs of deaf and hard-of-hearing learners. Kentalis, which has previously developed a similar degree program in Tanzania, anticipates that this training program will enable more deaf and hard-of-hearing students to graduate from high school, resulting in increased employment opportunities and enhanced career prospects. The program will also empower teachers to support their colleagues who lack special education training while simultaneously equipping them with the skills to teach deaf students more effectively.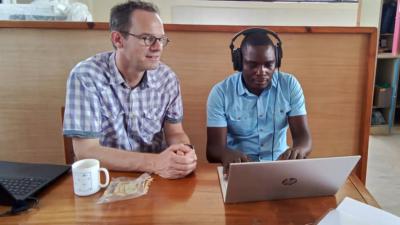 Due to the effects of the COVID-19 pandemic on the project, the BIDE collaboration with Uganda Martyrs University has been extended until 2024.
Project facts:
Timing: 2018 – February 2024
Location: Uganda, Kampala
Funded by: Stichting Vrienden van Effatha
Partner: Uganda Martyrs University