For a number of years now, Kentalis International Foundation has worked on numerous projects in Tanzania that focus on enhancing the quality of education for deaf children in secondary schools. While a lot of progress has been made in teacher training, it's crucial that the learning needs are properly diagnosed and assessed as well.
Project: ELDC educational diagnostics
Kentalis has been asked by the Archbishop Mihayo University College of Tabora (AMUCTA) to help with the choice and adaptation of available tests and provide coaching on the topic of educational assessment. The main goal of the project cooperation is to enable lecturers to use diagnostic testing which will provide valuable student information to the respective teachers. This can be used to adjust the teaching to the learning needs of the individual students. AMUCTA focuses primarily on secondary schools in Tanzania.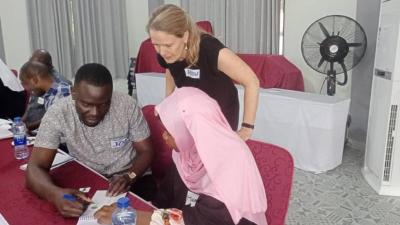 Training of academic staff
As part of this project, Kentalis will provide training and coaching to 15 lecturers and teaching assistants from AMUCTA's academic staff. The training will concentrate on communication and language, cognitive and social-emotional development, as well as the usage of assessment tools. The project program will enable the staff members to acquire the necessary skills to conduct diagnostic tests in schools and offer guidance to teachers on the social-emotional development of deaf students.
Project facts:
Timing: May 2021 – August 2023 (completed)
Location: Tanzania, Tabora
Funded by: American philanthropy (anonymous)
Partner: Archbishop Mihayo University College of Tabora