Hearing children learn to read by linking letters to sounds, for deaf and hard-of-hearing children a different approach is needed. Therefore, Kentalis International Foundation has developed and piloted a deaf-specific toolkit for teachers in both Tanzania and Uganda to support literacy education for deaf and hard-of-hearing children from nursery to year 3 of primary education.
Project: the Reading Project
The pilot was focused on the development of a reading method for teaching literacy skills to deaf and hard-of-hearing children. It ran in Uganda as well as in Tanzania. Activities consisted of training lecturers/tutors to be reading coaches who in turn (co)trained teachers. The teachers implemented the toolkit in pre-school and the first years of primary education, and the reading coaches supported the teachers during implementation using Video Interaction Guidance.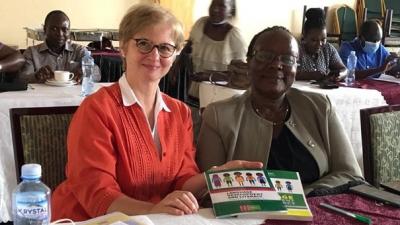 Toolkit Early Reading Method
One of the important outcomes of this project was the toolkit for teachers, rooted in evidence from research and best practices in schools in the Netherlands, Uganda, and Tanzania. It consists of essential theoretical information, practical links with existing lesson plan structures, new skills, and exercises based on the work from Kentalis experts and input from the teacher training. The toolkit has two versions, one for Uganda and one for Tanzania (available on our page resources). Both products were developed in cooperation with partners and various professionals in Uganda and Tanzania, and experts in the Netherlands. The toolkit is complemented by online modules on our e-learning platform.
Reading Skills for Deaf Children (RSDC)
The Reading Project is based on the Reading Skills for Deaf Children (RSDC) manual published by Kika Meereboer, a former teacher of the deaf at Kentalis, for the Tanzatoto Foundation. Kika spent a year doing volunteer work at a school for the Deaf in Morogoro, Tanzania. During her time there she worked with children and their teaching staff on hands-on reading exercises for young deaf children, based on methods and techniques used in the Netherlands.
Project facts:
Timing: 2014 – 2021 (completed)
Location: Uganda and Tanzania
Funded by: American philanthropy
Partners: National Curriculum Development Center, Archbishop Mihayo University College of Tabora, and individual consultants from Uganda and Tanzania.