During the covid-19 pandemic and the subsequent closures of schools, teachers had to make the switch to teaching school children through an online format. In Uganda, the national curriculum authority designed online teaching materials for schools. However, these materials were not attuned to the needs of deaf learners.
Project: online teaching materials for deaf education
The National Curriculum Development Center (NCDC) approached Kentalis for advice on how to design online teaching materials suitable for deaf students in primary and secondary education. Previously developed materials, with a sign language interpreter in the corner of the video, were not beneficial for deaf students.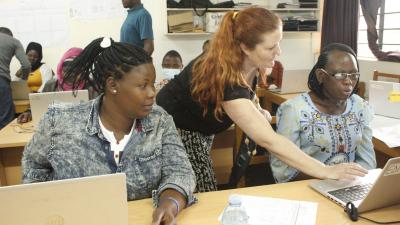 Deaf education and ICT
Together with NCDC and Uganda Martyrs University, Kentalis has been working on the development of lessons on a Learning Management System, intended to be used by teachers of deaf learners in Ugandan primary and secondary schools. A Kentalis expert team, with in-depth knowledge of deaf education and online lesson development, first engaged with Ugandan counterpart experts in deaf education and ICT. Together, they trained Ugandan lesson developers, coached them, and carried out quality control.
Digital teaching aids
After completing the training and coaching, the developed tools were evaluated in Ugandan primary and secondary schools. NCDC, as a result, can now publish tailored online teaching materials and has a trained expert team of 'deaf education content developers' at its disposal for future assignments. Furthermore, a teaching guide provides them with information on how to make use of those materials – after covid-19 – in pre and remedial teaching arrangements in schools.
Project facts:
Timing: 2021 – 2023 (completed)
Location: Uganda, Kampala
Funded by: Stichting Vrienden van Effatha
Partner: National Curriculum Development Center
Photos: © 2021 Koninklijke Kentalis - Kentalis International Foundation