Kentalis International Foundation and eKitabu, Kenya, share a common goal of enhancing the literacy skills of Deaf children. eKitabu achieves this by creating digital stories in Sign Language in EPUBs reading books, while Kentalis focuses on developing deaf-specific teaching methods. We have collaborated successfully in the past, thanks to our complementary work.
For one of their projects, eKitabu requested Kentalis to create an assessment tool for teachers to use in monitoring the sign language progress of students.
Project: teacher tool to measure sign language skills
Royal Kentalis has created a sign language observation tool to track sign language development during the first four years of acquisition. This tool was originally developed for Kentalis' work in the Netherlands but has since been adapted by Kentalis International Foundation for use by eKitabu in Ethiopia and Kenya.
eKitabu is in need of an assessment tool for teachers to ensure that all students are effectively learning skills taught through eKitabu materials in Tanzania. Kentalis International Foundation has agreed to create a game-based assessment tool that is user-friendly for teachers and fits within the broader implementation context of eKitabu projects.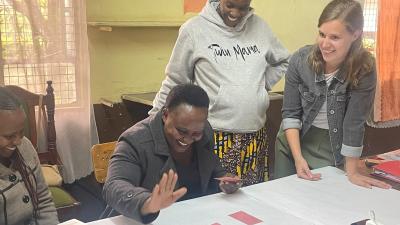 Project facts:
Timing: August 2022 – December 2023
Locations: Netherlands (online) and Nairobi, Kenya
Funded by: eKitabu, Kenya