Kentalis International Foundation and the Kenyan organization eKitabu both work towards improving the literacy skills of Deaf children. eKitabu by developing digital stories in Sign Language in EPUBs reading books and Kentalis by developing deaf-specific teaching methods. This complementary work has led to several fruitful collaborations in the past.
For one of their projects in Tanzania, eKitabu asked Kentalis to develop an assessment tool for teachers to conduct progress monitoring.
Project: teacher assessment tool to measure sign language acquisition
For the work of Kentalis in the Netherlands, Royal Kentalis has developed a sign language observation tool designed to monitor sign language development in the first four years of sign language acquisition. A few years ago, this tool was contextualized by Kentalis International Foundation to be used by eKitabu in their work in Ethiopia and Kenya.
eKitabu is in need of a assessment tool for teachers to conduct regular checks to verify that all students are learning skills that have been taught using eKitabu material for Tanzania. Kentalis International Foundation agreed to develop an assessment tool that is more game-based, easy to be used by teachers and contextualized to a broader eKitabu projects implementation context.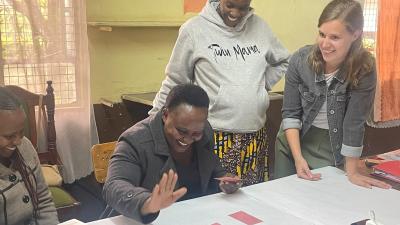 Project facts:
Timing: August 2022 – June 2023
Locations: Netherlands (online) and Nairobi, Kenya
Funded by: eKitabu, Kenya
Photos: © 2023 Koninklijke Kentalis - Kentalis International Foundation