When it comes to teaching children how to read, there is no one-size-fits-all approach. While hearing children can use spoken language to develop reading skills, deaf and hard-of-hearing children require a different teaching method. This involves teachers going beyond the standard curriculum and investing time in developing sign language skills before transitioning to reading words and text.
Teaching how to read
For a deaf child, the most easily understandable language is sign language, a visual language that has its own set of grammar rules. This means that in order to learn how to read and write, a deaf child must essentially learn a second language. To provide the best education for these children, a bilingual approach that combines sign language with written language would be ideal. Unfortunately, many deaf children are often unable to receive proper education due to the lack of knowledge and skills of their teachers. Kentalis International Foundation is dedicated to improving the quality of literacy education for deaf and hard-of-hearing children between the ages of 6 and 11 in developing countries by sharing their expertise in teacher education.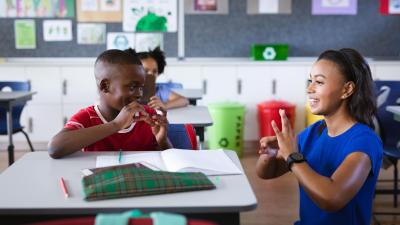 We focus on:
Providing expertise to educators, through teacher training colleges and universities, on how to teach reading and writing to deaf learners.
Working with the local Deaf community to improve young deaf children's social engagement and cultural identity.
Boosting inclusive classrooms, units in schools, and specialized schools for deaf and hard-of-hearing children.
Supporting remedial teaching or pre-teaching methods to ensure optimal integration of deaf or hard-of-hearing children in regular school settings.