Our basic audiology training aims to help identify hearing impairments in children early on, as late diagnosis can negatively impact their school performance and prevent them from reaching their full potential. This introductory e-learning is suitable for anyone looking to learn or update their knowledge of the fundamentals of recognizing hearing loss and knowing the different screening methods.
What will you learn in this course?
Enrolling in the basic audiology course will provide you with valuable knowledge about the anatomy and physiology of the hearing system, the levels of hearing loss, how to identify signs of hearing loss, and which screening instrument is suitable to conduct a hearing examination.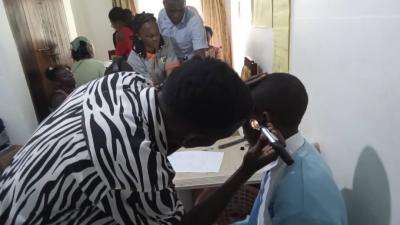 Who is it suitable for?
This course is designed for in-service and pre-service teachers, teacher students, and NGOs. It could also be utilized as a refresher for health workers. We offer this program to organizations and institutions as a group, and unfortunately, individual enrollment is not possible.
What type of course is this?
This e-learning course is self-paced and accessible through our e-learning platform. It comprises of theory lessons and a test. The main objective is to understand the basics of hearing impairment, making it an ideal introductory module for individuals working with deaf or hard-of-hearing children or adults. Additionally, this course can be combined with our other courses.
Practical information
Duration: 8 hours for the online modules plus time for a final test.
Technical details: our learning platform can be accessed on any PC, laptop, tablet, or smartphone and can be used with many web browsers.
Offline usage: each module is available for download and can therefore be used offline.
Certificate: at the end of the course you will be awarded a certificate of completion.
Accreditation: this course is certified by CPD Certification Service UK.
For more information go to our e-learning platform, log in as a guest, and browse our catalog.
Request this course
If your organization is interested in enrolling in this group course, please contact us through the form located on the right side. The course fee will be determined after we review your request.