The Parents Awareness Workshop informs parents of the importance of early childhood development and communication with their deaf or hard-of-hearing child. It is a Deaf-led course where we train community facilitators or social workers in how to deliver an interactive workshop that encourages particularly hearing parents to engage with their deaf child and overcome negative attitudes and stigma.
What will you learn in this course?
The Parents Awareness Workshop is a train-the-trainer course designed for Deaf facilitators who want to inspire their local community. By participating in the group course, you will learn how to facilitate communication and interaction between a hearing parent and a deaf child. Additionally, the program will promote sign language and language acquisition, foster positive perspectives on a deaf child's future, and educate parents on Deaf culture and human rights.
Upon completion of the training, the community facilitators will have the skills to host awareness workshops for parents and train others to become facilitators independently.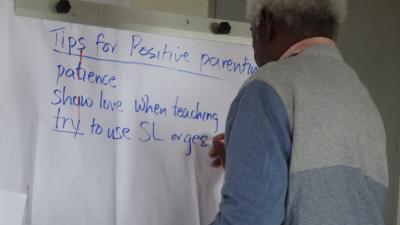 Who is this course suitable for?
This course is intended for deaf associations, disabled person's organizations, community workers, and NGOs in the Global South. It is only available as a group course for organizations and institutions, and individual enrollment is not possible.
What type of course is this?
This training will take place on location. The method will be explained to prospective community facilitators through a collective review of manuals and materials. Following that, new community facilitators will lead a local workshop for parents under the guidance of Kentalis experts.
Practical information
Duration: 5 training days and 5 days for the workshop for parents.
Certificate: after passing the theory and practice exams you will be awarded a certificate of completion.
Accreditation: certified by CPD Certification Service UK.
Request this course
If your organization is interested in enrolling in this group course, please contact us through the form located on the right side. The course fee will be determined after we review your request.