The Reading Method for Early Literacy course is designed for primary education teachers who work with students in grades 1-3. The course aims to equip educators with the skills to effectively teach reading to deaf and hard-of-hearing children, whose literacy development differs significantly from that of their hearing peers. It is based on the Kentalis model developed in the Netherlands.
What will you learn in this course?
By taking this course, participants will deepen their understanding of the language acquisition process that is based on visual instead of auditory input. They learn about the prerequisites for literacy development and become knowledgeable in the 4-step method of reading, a teaching method that is appropriate for deaf and hard-of-hearing learners.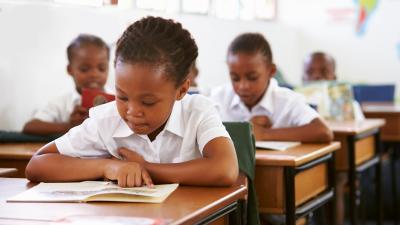 Who is it suitable for?
Our Reading Method for Early Literacy course utilizes a train-the-trainer approach. This means that we equip participants with the skills necessary to become reading coaches who mentor educators in teaching deaf children. In this process, we co-train teachers together with our participants. This course is given at teacher training colleges or universities (specifically those with special needs or inclusive education departments), and to NGOs working in the education sector who intend to become inclusive in their approach to capacity building. Please note that this course is only available for groups and organizations, and individual enrollment is not an option.
What type of course is this?
This course is a combination of online modules and on-location training, making it a blended learning experience. The first part focuses on the theory, which is covered in 8 self-paced modules on our e-learning platform. The modules can be supplemented with online individual or group interaction with our trainers. Once the online components are completed, in-person group training sessions are organized to concentrate on developing and testing skills. During the first session, we focus on the trainers, and in the second session, we practice in schools where the co-training of teachers/educators takes place.
Practical information
Duration: 18 – 20 hours for the online modules (2 hours per module) and 2x5 days for the on-location training.
Technical details: our learning platform can be accessed on any PC, laptop, tablet, or smartphone and used with many web browsers.
Offline usage: each module is available for download and can therefore be used offline.
Certificate: subject to attendance and active participation you will be awarded a certificate of completion.
For more information go to our e-learning platform, log in as a guest, and browse our catalog.
Request this course
If your organization is interested in enrolling in this group course, please contact us through the form located on the right side. The course fee will be determined after we review your request.