Kentalis International Foundation provides advice and training to professionals in the field of deaf education. In inclusive or special education. With an eye on a holistic system-changing approach and a sustainable exchange of knowledge and expertise. In doing so, we work with international partners, NGOs, universities, governments, and local organizations.
Train-the-trainer
The projects of Kentalis International Foundation are guided by the train-the-trainer principle. It supports a long-term transfer of professional expertise with a commonly agreed exit strategy. In practice, this means that in most projects, Kentalis experts train a group of professionals working in universities, colleges, schools, or NGOs, and they, in turn, train colleagues. This way we build towards lasting change.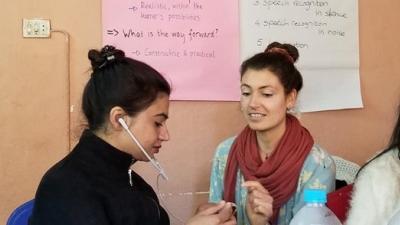 Kentalis experts
Our team matches the training needs of a partner with the expertise of Kentalis experts. Experts are colleagues from our diagnostic centers, schools, care units, and research teams in the Netherlands. Kentalis International Foundation works in synergy with the research, development, and training department: Kentalis Academy.
External funding
Kentalis is not a grantmaker. Together with partners, we look for funds that can finance our projects. In addition, we also organize short-term projects that are financed by a client requesting a training course or coaching trajectory.
Project setup
Once funding is secured and all parties agree on a project plan, Kentalis International Foundation will identify and select Kentalis experts. These colleagues will set up the training activities, where they apply their specific knowledge within the context of a partner country. Activities are implemented in close collaboration with local partners.
Photos: © Koninklijke Kentalis - Kentalis International Foundation