Kentalis International Foundation offers guidance and education to professionals working in the field of deaf education, whether in inclusive or special education settings. Our approach focuses on creating a holistic system-wide change and fostering a sustainable exchange of knowledge and expertise. We collaborate with international partners, NGOs, universities, governments, and local organizations to achieve our mission.
Train-the-trainer
At Kentalis International Foundation, we follow the train-the-trainer principle to guide our projects. Our aim is to transfer professional expertise in the long term with an agreed exit strategy. What this means in practice is that our experts train a group of professionals from universities, colleges, schools, or NGOs, who then go on to train their colleagues. This approach ensures lasting change.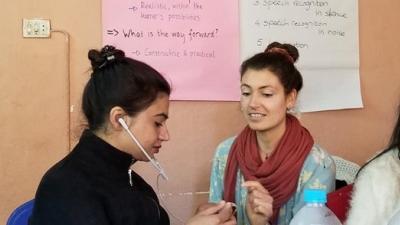 Kentalis experts
Our team collaborates with Kentalis experts who have the necessary skills and knowledge to cater to our partner's training requirements. These experts are part of the Kentalis diagnostic centers, schools, care units, and research teams in the Netherlands. Kentalis International Foundation operates in synergy with the Kentalis Academy department to ensure optimal results.
External funding
At Kentalis International Foundation, we do not provide grants. Instead, we collaborate with partners to identify funding opportunities for our projects. Additionally, we offer short-term projects that are funded by clients who request training or coaching services.
Project setup
After securing funding and agreeing on a project plan, the Kentalis International Foundation will proceed to identify and select experts from Kentalis. These experts will then set up training activities that are tailored to the needs of the partner country. The activities will be implemented in close cooperation with local partners.